Like many people out there, I miss going to
live sports or concerts. If I close my eyes, I can picture the people going up and down the stairs carrying fresh popcorn and snacks. Well, if your missing out on fresh popcorn, look no further! Every year in June, we do a series called Reel Messages. Each week, we take the time to connect   moments in film to our faith. This year we postponed it due to the pandemic, but it will be kicking off this Sunday, 9/6. This year will feature the films Remember the Titans, Outbreak/Contagion, Wonder Park, I Still Believe, Frozen 2, and the Lion King. We'll be serving fresh, individually packed boxes of popcorn from the Detroit Popcorn   Company each week. We are looking forward to having some fun, and to what God has in store for us as we explore faith in film.
LOOKING BACK:
We have continued to experience safe and spirit filled worship in house and online, PTL!
We continue to see an increase in the amount of people asking for prayer and spiritual guidance online who were not connected to our church family. Some of those requests are posted at westlandfmc.com/prayer. Please take a moment throughout the week and stop by that page to pray, and click on the "I prayed for this" button to let them know that we are lifting them up to God.
We hosted a conference called Redeeming Stones with 50 people in house and 4 online. It was a powerful time of worship, teaching, and prayer. God moved in some mighty ways during that time!
Many people have received ongoing prayer and encouragement through constant communication from our team.
Beans and Bibles continues to meet virtually and Dinner Church is exploring what it looks like to come back to Jefferson Barns. Please continue to pray for these church communities!
WOMBAT had a great trip! No major injuries and no Covid or other illness. Around $14K was raised for Haiti!!
Our Halo Disinfectant System and new chairs arrived!!
We were able to partner with Biggby and Schweitzer SWABA to bless the Schweitzer staff on their first day back!
COMING UP:
Fall Growth Groups are just around the corner! These are the prime place to experience that we are not alone, to journey together with others, make new friends, and explore what God has next for you. For more information visit our station in the lobby or go to westlandfmc.com/groups.
Our group kick off is Sunday 9/27 after our worship service. In the parking lot under a tent, we'll enjoy some great hot dogs, chili dogs, and Polish dogs from a local vendor "Heavenly Hot Dogs. We'll also have a preview of our groups and a fun interactive game. Everyone will get a ticket for a meal (dog of your choice, pop, and chips).         Additional food may be purchased. We are thankful for Heavenly Hot Dog and their commitment to food safety and adhering to all local health department directives.
Discipleship Bands were a huge success in the Spring and they are back! This is a group of 3-5 people who read scripture together, pray together, and meet together to become the love of God for one another and the world. If you are interested in starting a band, contact Pastor Eric, or join the in person/virtual meeting on 9/21 at 6pm.
Marriage Night is Saturday, 9/12 from 7-10:30 PM. This is a one-night event for married and engaged couples to laugh and learn as they hear from marriage experts and discover how to honor God through their relationship. The speaker lineup includes Matt and Lauren Chandler, Conway and Jada Edwards, Les and Leslie Parrott, and comedian Michael Jr. The cost is $15 per person and it's a can't miss event! Register at: westlandfmc.com/marriage. Light snacks will be served. Childcare will not be available at this time. A virtual option is available for this seminar.
Anchor is looking to resume in September! We have also been meeting to figure out how to have children's events and ministry in this season. You'll be hearing more about each of these soon!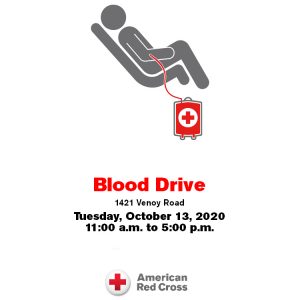 We're hosting and America Red Cross Blood Drive on Tuesday 10/13 from 11 AM - 5 PM. You can sign-up to donate today at westlandfmc.com/giveblood. What a great opportunity to help save lives!
As a reminder, we are still in Phase 3 of our re-gathering plan. For more information about what the means for each ministry visit westlandfmc.com/welcomeback. You are all in our prayers and we are here to help in any way!