It's hard to believe that school is out for th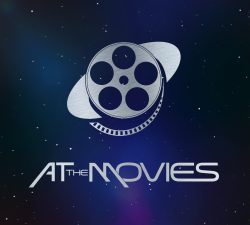 e summer, and that we've been together as one church for 6 months now!! We've got big plans for the summer.
Next week is Tri-Con where all three MI FMC conferences will gather together to seek God and dream together. Please be praying for what we believe will be a powerful weekend. That week we are also excited to have the Rosado family, who are our missionaries to Argentina with us.
In July we'll kick off our yearly "At the Movies" series. During that series we explore moments in movies that speak to spiritual truths. This year our first four movies will be Independence Day, Redeeming Love, Angels in the Outfield, and the 10 Commandments. The popcorn machine will be flowing and we'll have a great time together.
There are lots of other things coming up as well, check below for more details!
LOOKING BACK:
Several new families have joined our church and we continue to see 140-160 on a Sunday morning, with 25-30 kids, and dozens more joining us online!
Many people have made life changing decisions during our Emotionally Healthy Spirituality series, including people giving their life to Jesus, and finding freedom from addiction!
We finished off a great school year with a fun end of the year party for our teens. We also raised over $700 through the bake sale to help send them to camp this summer.
COMING UP:
One of our stated goals when we came together was that we hoped to serve as a hub for ministry in western Wayne County. We are working on re-launching our dinner church in Norwayne. This summer we'll help with a movie night and school supply drive out of Jefferson Barns, where we host dinner church. More details to come on those events!
Tonight we'll have our first gathering of the Ashford Court Dinner Church. We have been dreaming about launching this microchurch for 3 years. Early this spring, we met with the new management at Ashford Court Retirement Home and they essentially pleaded with us to come and start a church service there. We have faithful people who have volunteered at Ashford Court for years, and it is so exciting to see the next step that the Lord has made possible—enabling us to launch a new dinner church there! Please be praying for our team. And please pray for the multiplication of disciples at Ashford Court among staff, residents, and family.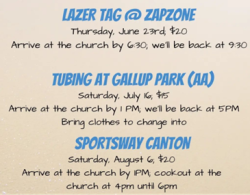 Anchor student ministry will be hitting up the Zapzone, Gallup Park, and Sportsway this summer. See the graphic to the left for details!
We are planning an all church day at the lake on Saturday, August 20, at Silver Lake in Pinckney. It will be a great day out. There is no cost, just bring food or food to share.
We are also looking at additional events in the fall like a Rummage Sale and Road Rally. Join the team after service on July 10 to learn more or to help plan events.
We are looking for several more people to join our Children's Ministry team. It's so exciting to see 25-30 kids on a Sunday morning, and we have a great opportunity and responsibility to help them learn more about Jesus. We're looking for 2 people for preschool, and 3-4 for K-5, who can serve 1 Sunday a month. If you are interested in learning more about those our other opportunites, fill out the serve form at westlandfmc.com/serve-opportunities.
On the construction/sale side...Our new bathrooms and additional rooms in our kids area will be ready in the next couple of weeks! Also, we continue to negotiate the sale of the Venoy property and still hope to close on that this summer. Please continue to be in prayer over all of the details. Can't wait to experience this fun and faith filled summer together!