On a Thursday just like this several thousand years ago Jesus sat around sharing a meal with His f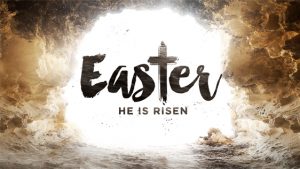 riends for the last time before His death. That evening He gave them these words: "A new command I give you: Love one another. As I have loved you, so you must love one another. By this everyone will know that you are my disciples, if you love one another."Jesus then went on to make the greatest display of love humanity has ever known when He offered His life on the cross. Friday was a brutal day for Jesus, as well as His friends and family. Today we call it Good Friday, but it's only good because of Sunday!!
There is a lot to celebrate this week, first and foremost that Jesus is alive!! I watched a video this week where someone said: "Easter is the celebration that there was one man who did not stay in the ground." Jesus death paid the penalty for our sin, and His resurrection makes it possible for us to be brought back to life to spend eternity with Jesus after we die. I pray our Risen Savior will fill us with hope this week, and that our hope will overflow into sharing His love with those around us! Who is God calling you to share the good news with this week?
This Sunday we'll have breakfast together at 9:15 and Egg Hunt at 9:45, and then close out our "I AM" series by looking at Jesus words in John chapter 11 where He tells us that He is the "resurrection and the life." We can't wait to celebrate those truths together!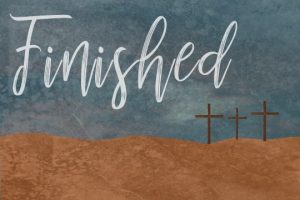 But before we do that, we'll gather together for our annual Good Friday Worship Experience, this Friday from 7-8:15pm at WFMC. The experience will feature a silent and reflective time of scripture, drama, songs and receiving of Holy Communion together. We are partnering with Evergreen FMC in Ann Arbor, and we also welcome special guest and actor – Dr. Paul Patton. You don't want to miss this amazing worship experience!!
LOOKING BACK:
We had between 30-40 people join us for Christ in the Passover. It was a really powerful experience as Jewish Christian Andrew Barron walked us through the powerful history of the Passover. If you missed it, you can still catch the video on Facebook (facebook.com/

westlandfmc

) and soon on

Vimeo

(vimeo.com/

westlandfmc

).
All the new tiles have been ordered for our bathroom remodels, and most of them have arrived. We had to do some re-designs on the stall partitions, and should be able to order those in the next week. The last thing to do before setting an install week is to finalize sink/counter/etc designs. We are so very close. Thanks for your patience and thanks to everyone who has been working so hard at bringing all of this together. It's going to look amazing and be much more functional for us. Another praise is that we have been getting some incredible price breaks as we continue to try to be good stewards of the funds you have given for this project.
We have 15 people so far who have signed up to serve at Schweitzer Elementary!
Run for God has begun and we have around 4 times the participants as last year. So excited to see what God has in store for this group.
COMING UP: Ready to light a spark that may ignite your faith journey? If so, get ready for our new, 3 week series, starting after Easter called "Dangerous Prayers."
If you missed it, you can still signup to impact the students and staff at Schweitzer Elementary. Here are a couple initial ways: Literacy Corp: Reading with kids and helping them grow in their reading abilities. Watch DOGS: Jumping in where needed to have a big impact on the students. Lunchroom Volunteers: Giving an hour to serve the students and staff. Volunteers in any WWCS school must have background checks, we have the forms for this available in the lobby for your convenience. For more information you can contact our Coordinator Bill Leinenger at: . It has been amazing to see how excited the kids and staff are to have us there.
"Beans and Bibles" will be starting this Spring (Sunday nights) at Biggby on Ford Road in Westland. And Dinner Church in Norwayne will kick off this summer around July (Monday nights). Steve, Dillon, and I will be at WFMC this upcoming Tuesday the 23rd at 7pm to meet with people who may have questions about the initiatives or want to know how to get involved. We're excited about these opportunities to share the good news with more people in 2019!
Anchor (Student Ministries) runs Thursday nights from 7 – 8:30pm (doors open at 6:30).
Marriage Night is a one-night event for couples to laugh and learn as they hear from marriage experts and discover how to grow in their relationship with God and each other. The speaking lineup includes Francis & Lisa Chan, Les & Leslie Parrott, and comedian Michael Jr. Please mark your calendar for Friday, May 31, from 6:30-9:30 PM and plan to attend with your spouse or significant other. Cost is $15 per person, and childcare is available upon request. Registration is open!!