On a day much like this an expert in the law asked Jesus to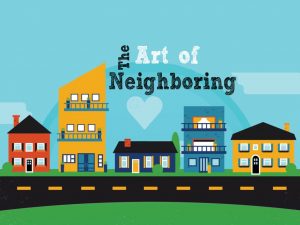 pick the most important commandment in the law. Now, with 613 to choose from, it makes it a bit of a challenge to narrow it down. Unfazed by the question, Jesus quickly responds: "Love the Lord your God with all your heart and with all your soul and with all your mind. This is the first and greatest commandment. And the second is like it: Love your neighbor as yourself. All the Law and the Prophets hang on these two commandments." (Matthew 22:37–40)
According to Jesus the most important things we can be about during this lifetime are loving God and our neighbors. If those are the most important things to Jesus, then those are the things that should be most important to us. So, who are our neighbors, and how do we show them love? Well, that's exactly what we are going to take the next three weeks and explore in our new series: "The Art of Neighboring!" We hope you'll join us on this journey, as we take Jesus words to heart!!
If you want to go deeper in this topic, you can pick up Jay Pathak & Dave Runyon's book "The Art of Neighboring." You could also watch Dave speak about the topic in Right Now Media. In addition, we are offering a Summer Growth Group on "The 9 Arts of Spiritual Conversation." More on this from Pastor Eric: "If you've ever felt uncomfortable talking about your faith with people who believe differently–you're not alone. But it is possible to engage in open and honest spiritual conversations…without awkwardness! Jesus did this effectively, and when you learn from Him, so can you." You can join us for 4 weeks on Tuesday evenings beginning June 4th from 7-8:30 PM. To sign-up, visit our growth group hub at: westlandfmc.com/groups.
LOOKING BACK:
Around 100 people joined us for a powerful experience on Good Friday We also had 222 people join us to celebrate the resurrection on Easter Sunday! The egg hunt (between 60-70 kids participated) and meal were fun additions and hits. Overall, we received so much great feedback on the impact of a powerful week!
All the new tiles and stall partitions have arrived for our bathroom remodels! We are finalizing countertop and sinks and will be ready to roll after that! Thanks again for your patience and thanks to everyone who has been working so hard at bringing all of this together!
We have a group of more than 10 people who have started helping kids develop their reading skills and serving in the lunchroom at Schweitzer Elementary. We also provided coffee (in partnership with Biggby) and cards/gifts from all of you on teacher appreciation day. This was a timely and tremendous blessing to the staff there!
We kicked off our Biggby Site! Our highest attendance so far has been 10 people, we are eager to see where God leads us in the coming year! They are kicking off a study from Tim Tebow this week on seizing the day. Please continue your prayers and encouragement for this ministry!
Check out our new website: westlandfmc.com and our new app, labeled "Our Church" in the app stores!
COMING UP: Marriage Night is a one-night event for cou
ples to laugh and learn as they hear from marriage experts and discover how to grow in their relationship with God and each other. The speaking lineup includes Francis & Lisa Chan, Les & Leslie Parrott, and comedian Michael Jr. Please mark your calendar for Friday, May 31, from 6:30-9:30 PM and plan to attend with your spouse or significant other. Cost is $15 per person, and childcare is available upon request. Registration is open!!
Dinner Church in Norwayne will kick off this summer in July (Monday nights)! We will be participating as a church family in an annual cleanup day for Norwayne, on Saturday June 1, from 10am-2pm. We'll be meeting at Jefferson-Barns Community Vitality Center (32150 Dorsey St, Westland), hope to see you there!!
Holly Starr with be with us this Sunday 5/19! Holly is ultra talented and we are pumped to have them lead us in worship and to hear some of their original music too!
Baptism & Testimony Service will be Sunday 6/9. If you'd like to get baptized or have a testimony about a way God is working in your life, contact pastor Tyson or pastor Eric for more details.
Anchor (Student Ministries) last Thursday night for the year is June 13th, where they will be "pigging" out on ice cream. The summer schedule is out, kicking off with: Backyard Bonfire/Games, Wednesday, June 19th in the Rose's Backyard (Next to the church), 6:30-9:30pm. Enjoy some Hot Dogs & Games, Bring a drink to share. For more information go to westlandfmc.com/anchor. This event is for students in grades 6th – 12th for the 2019-2020 school year.
Preschool registration is open for 2019/2020, visit wfmpreschool.com to learn more!
Finally, our summer movie message series is just around the corner. If you'd like to suggest a movie for the series, go to https://www.sli.do/, use the code REEL. Let us know what movie you'd like us to use, and what theme shines through it. You can also boost other people's suggestions too.