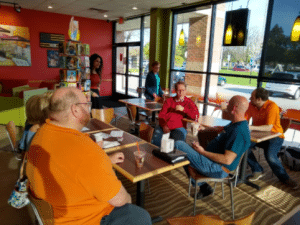 Before Jesus ascend
ed up to heaven, post resurrection, he encouraged His followers with these words: "you will receive power when the Holy Spirit comes on you; and you will be my witnesses in Jerusalem, and in all Judea and Samaria, and to the ends of the earth." (Acts 1:8, NIV)
That same power that enabled them to spread the good news, is available to us today! The Holy Spirit is unleashing His power, as we've started additional sites at Biggby and Jefferson Barns. Thanks to  everyone who has prayed, gave, made food, and jumped in to make these launches successful. Beans and Bibles and Dinner Church are reaching new people with the good news and we are so excited about how God is moving! Please continue to pray for these new works, that God would draw new people to Himself, and that He would empower our teams.
LOOKING BACK:
Our Reel Messages series was a hit and a lot of fun. Thanks to everyone who helped make the series possible!
The Van Tifflins are fully funded and are heading back as of 7/31. WFMC gave $1846 to help!!
Pray for our denominational leadership as we have 3 new bishops: Linda Adams, Keith Cowart, and Matt Whitehead. We also have a new Board of Administration for our denomination which includes our own Gloria Girgis!
Anthony got baptized!!
Check out our new website: westlandfmc.com and our new app, labeled "Our Church" in the app stores!
COMING UP: We are starting a new series on the letter to the Colossians this Sunday! The whole letter is focused on helping us make Jesus the center of who we are and what we do. We believe that God is planning on taking our relationship and focus on Him to new depths in the coming weeks as we dive into this study together. To go deeper, check out one of the many studies on Colossians available through Right Now Media.
Our bathrooms will be ready for use this Sunday! We will still be working on some additional tiling, grout, and lighting, etc, in the coming weeks. Thanks for your patience in this process and for everyone who has been working to make this enhancement possible. This is going to be a wonderful upgrade to the facility!
Are you currently serving? If not, we have a simple and intentional on-ramp for you to begin serving, called First Serve. This allows you to "test drive" or "try out" a ministry. More info to come, but take a look at westlandfmc.com/serve, and begin praying about how you might serve Christ in our church and in our community.
Do you have the heart to facilitate meaningful conversations about Jesus? Do you like being with people and praying, and growing together? If you are interested in learning what it looks like to serve as a Growth Group leader, check the box in the Next Step section of your Connection Card and someone will contact you, or contact Pastor Eric  at . Together, we are pursuing Jesus Christ in community.
Mark you calendars for an amazing afternoon of Trivia, Pizza, friends, and hearing about some incredible growth groups. Sunday, Sept 22, after worship. Go to westlandfmc.com/events to sign-up.
Anchor (Student Ministries) has some great events going on this Summer. Next up is our water park day at Rolling Hill Water park in Ypsilanti. We will be leaving the WFMC parking lot at 10:30 AM (8/22) and returning @ 4:30 PM. Cost is $10 ($10 extra money for lunch) What to bring: Swimsuit, towel, bag, sunscreen, lunch money. Optional: Change of clothes, quarters for lockers. All students MUST have a Anchor Medical Waiver Completed to attend this event. go to westlandfmc.com/anchor.
Kid's Promotions Sunday / 1st Grade Bible Presentation: Sunday, Sept 1, we will be presenting our 1st graders with a bible, and activity book for parents and caregivers. Then Sunday, Sept 12, Kids will be promoted to Jr Explorers (Pre-school – Kindergarten; located in the preschool room), or the Explorers class (1st-5th grade; located in the Lower Level) Helping Kids know and grow in Jesus! – Kid's Min Team
Preschool registration is open for 2019/2020, visit wfmpreschool.com to learn more!
Anticipating Great Things!! Pastor Tyson